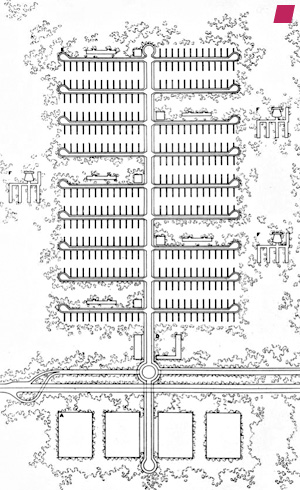 I.) Img. _01
Caption:

» 80. A NEW SETTLEMENT UNIT. A-Industrie. B-Main highway. C-Local highway. D-Commercial area. E-Residential area. F-Schools in the park area. «
'The New City : Principles of Planning'
1944

http://www.archive.org/

» We need a new city element to replace the archaic block or gridiron system. The structure of this new settlement unit […] should permit, not only a general solution of all the different parts of the city and their relation to each other, but also free and unhindered urban growth. « I.) 1
Project for the Marquette Park, Chicago, undated (after 1945 [1955 ?]) [this drawing is actually upside down!]

The plan shows gradual (perhaps even piecemeal) 'erosion of the urban grid', as promoted by Hilberseimer […], developing the area north [!] of Marquette Park, Chicago (W 67th Street - W 59th Street) from a high density grid typology to a low density fish spine [ladder] (cul de sac) structure, projecting an 'Urbs in Horto' garden eden city ideal.

In its [unintended] reversal - true insight!